Gaeta lights up with the new edition of Favole di Luce. As every year, the lights of Gaeta offer unique experiences and shows that unfold in a path throughout historical surroundings and artistic treasures of our wonderful city. Read on to discover the map of this year's illuminations.
Those arriving in Gaeta from Lungomare Caboto will immediately be able to experience the most admired installation of last year: the Eiffel Tower. Near Villa delle Sirene, the Eiffel Tower illuminates with its play of colours the small square adjacent to the surrounding dwellings. We are sure that you and your children will be amazed by the wonder of this installation.
Continuing on Corso Cavour you will be greeted by the colourful projections that stand out on the buildings of the city; even in Piazza XIX Maggio the school, bell tower and the town hall are dressed in festive animations.
In front of the Municipality you will find the traditional Christmas markets where you can buy souvenirs of the city, Christmas decorations and much more. How about a skate on the ice rink where you can turn back time and become a child again, or even take your first steps in ice skates?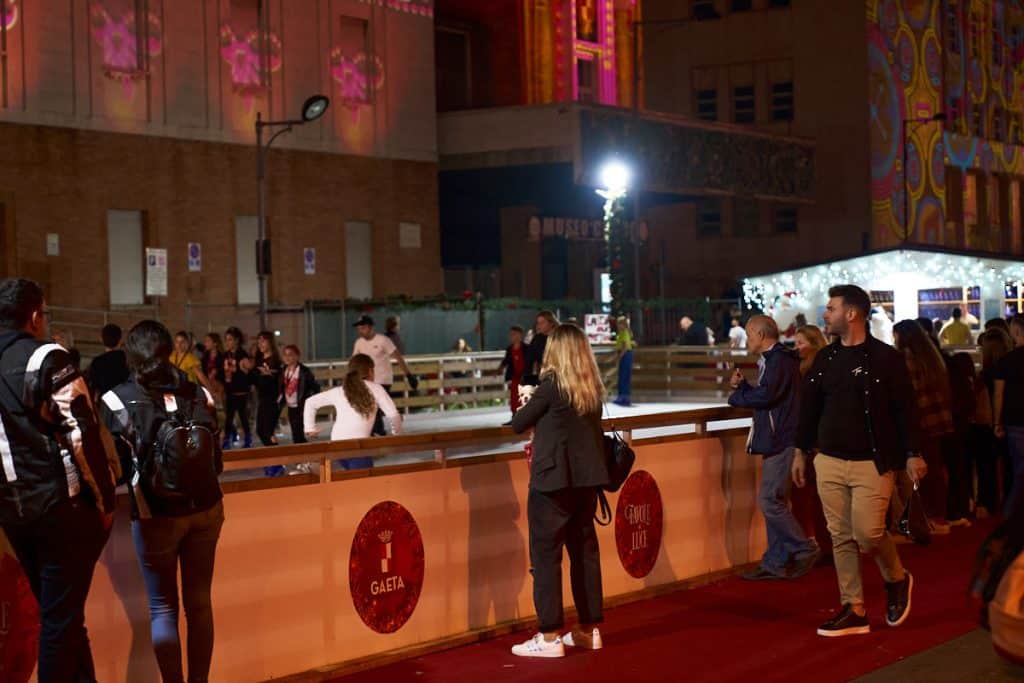 Towards the village of old Gaeta passing through the food stands
Along the road that leads to old Gaeta you can take a break and taste the delicious dishes prepared in characteristic wooden houses. We bet you will not be able to resist the delectable aromas and the shop windows laden with delicious sweets and typical products from different regions of Italy.
On the way you can admire the projections that show our military and naval history. In fact, Gaeta this year was the host of the celebrations of the 160th anniversary of the Navy by accommodating the highest institutional, military and civilian positions. The celebrations will continue throughout the year until February 2023.
In Villa Traniello you will find yourself in an underwater world made up of colourful fish and inhabitants of the sea. Arriving at the Molo Santa Maria you can admire the first hydrogen-powered catamaran in the world that stands out of the water, in the center of the square. The Island, this is the name of the boat, it was built within the Offshore boat yards in Gaeta and will sail the seas around the world. One of its peculiarities is the 100% internal combustion propulsion fueled by hydrogen which has no polluting effect.
Luminarie Gaeta: where to park for free
Those arriving in Gaeta by car can take advantage of the free parking at piazzale Salvatore Bisbiglia in Calegna. While buses can fill in a form on the Luminarie Gaeta website in the "Book" section to benefit from free parking in the dedicated areas. For campers, paid parking is provided in the Spaltoni area in via Munazio Planco, on the hills of Monte Orlando.