The festive season which is loved by children and adults alike, is almost upon us! If you are thinking to decorate your home for Christmas with a warm and original touch, you cannot miss the hottest trend right now: the"cozy style". Wood colors, warm plaid and confortable lighting dominate in this style. A trand that match well withecological furniture.
Are you curious about how to decorate a cosy house for Christmas? Continue reading the article to find out!
How to decorate your home for Christmas following the cozy trend
The adjective "cozy" has been coined to describe a warm, "cosy" and welcoming style, typical of Nordic atmospheres where this trend is particularly well-known. Cozy is a cup of hot chocolate to sip while it's snowing outside, it is a soft tartan plaid laid out on a cosy armchair, it is the fireplace that crackles and warms the room. In short, the "cozy style" is the best way to experience the winter months and, of course, Christmas! And what about those who live by the sea? Gaeta too is getting accustomed to facing cold and rainy winters and these are the ways to enjoy what little pleasures winter has to give
For a "cozy" Christmas, let's start by choosing the main element, displayed in all homes: the Christmas tree. On the market there are many types of Christmas trees. Surely owning a real one is an added charm; the environment is enveloped with the scent of the forest which gives the space an aromatic effect that embraces all the senses. If, on the other hand, you decide to opt for an artificial tree, choose a green or snowy one, the important thing is that it is full and voluminous. But let's get to the fun part: the choice of decorations.
Ideas for decorating a Christmas tree with warm lights and wooden decorations
To decorate the tree in a "cozy style", you can opt for DIY Christmas items or unique pieces carved in wood, perhaps taken from a flea market, even pine cones embellished with gold elements. To recreate a more refined style, you can mix & match with more precious decorations and warm lights that will give it a chic effect without being too exaggerated. The important thing is to remember that the colours that define this style are as in the furniture as well as the decorations and they are warm but soft to give the environment a comfortable effect that promotes tranquillity.
After the tree, let's move on to decorating the house for Christmas. If you are lucky enough to have a fireplace, you can recreate a comfortable corner with a sofa; by laying a soft tartan blanket, next to a wooden basket or a rustic container where you can store wood to add to the fire. Scented lit candles placed on a table, together with books and a small Christmas tree will make this little corner of the house a place to indulge in well-deserved moments of relaxation.
Pay attention to details such as windows and stairs.
If you have a two-story house, one part that is very often overlooked is the stairs. If they are at the entrance, or in any case they are visible, you can use them to create a fabulous cosy effect as soon as you or your guests enter the house. To create astounding stairs decorated for Christmas, choose garland that recalls the style of your tree, or completely contrasting and create a dynamic effect. Complete with more strands of warm lights and voila, that's it!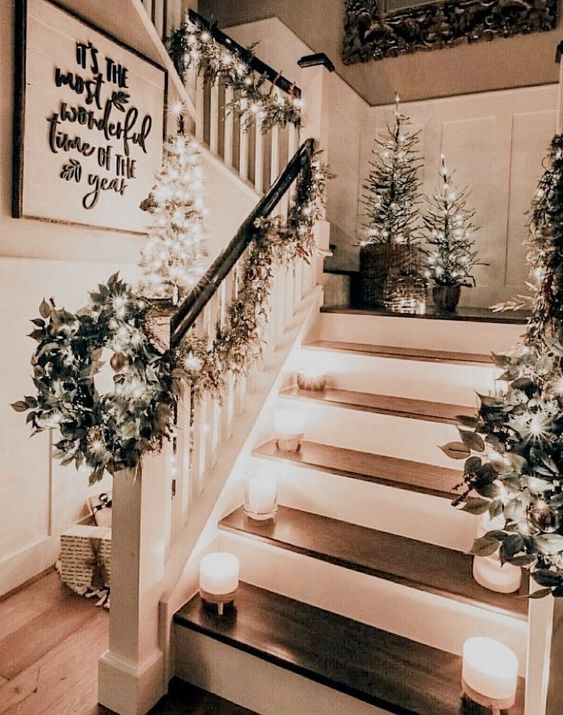 Windows are also a focal point not to be overlooked. If you already have plants on the windowsill, you can take advantage and illuminate them with lights and place them alongside a Christmas-themed draft stopper.
As you have seen, decorating your home for Christmas with this style is very simple! Follow these few rules and be inspired by your taste to bring a little "cozy" atmosphere to your home in Gaeta.